I have badly neglected this blog. I thought a good way to revive it would be to talk about some of the books I've recently read.
Especially since I have started reading a lot more (since I discovered the magic of Audible).
The Martian by Andy Weir
My rating: 4 of 5 stars
I listened to this book through audible narrated by R. C. Bray.
This book was refreshingly humours.
To be honest I had expected this book to be a thriller with that heavy scifi feel.
However it was a quite light hearted novel with loads of humour, sounds strange when it comes to a book about a man stranded on Mars, but it worked out.
I thought the writing style (and especially the narration from Mr Bray) was great, it felt honest and I liked wow real the conversations seemed. The fact that all the profanities was a big part of the book only made it better.
Of course this book is not scientifically correct, and sometimes the constant Disaster > Solution > Another Disaster felt a bit pushed. But it did not impact too much of the overall feel of this book.
I really enjoyed it and would recommend it to anyone who has an interest in space, science, or scifi.
Gone Girl by Gillian Flynn
My rating: 4 of 5 stars
Where do I start on explaining this book?
There is a lot of mixed feelings when I think about this story, however I did really enjoy it.
It was such a messed up novel that had twists I was not expecting, in a way I could sense my view of the world ever so slightly changing – in a sort of fucked up, psychotic way.
The story start with the love story of Nick and Amy, and how their amazing relationship take a turn for the worse when they lose their job and have to move from NYC to Missouri. Years of suppressed feelings bubble up and eventually Amy goes missing.
Nick with his insane calm and his absolute lack of worry or grief for his wife is quickly suspected of murdering her.
Really great story which is really enticing, however gives you a sort of dirty feeling while reading it, but it's not completely uncomfortable.

The Girl on the Train by Paula Hawkins
My rating: 3 of 5 stars
The Girl on the Train by Paula Hawkins was not really what I expected.
The first 90% of the book sets around 3 women, and I can find no other word to describe them than pathetic. Sad, crazy, pathetic women who do things no sane person would ever do.
This is a story about drunks, about cheaters, about weak, jealous, pathetic, narcissistic, violent people.
I was so angry all the way through this book, it just woke such a frustration in me, however I had to keep reading to find out what happened.
I have to say towards the end the book got a lot better and I was actually not expecting the twist in the end. I did think it was such a good ending and I was happy to not be badly disappointment.
THOUGH the great ending did not make up for the rest of the book which felt long because of all the embarrassing weak moment of the main character. In all though it was a decent read, but I don't think I would recommend this book to anyone.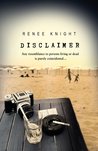 Disclaimer by Renée Knight
My rating: 4 of 5 stars
Okay so the third woman's point of view crime/thriller book I read in a row.
Comparing them to the other two, it missed that magic something in Gone Girl, but was a lot better than The Girl on the Train.
A book appears mysteriously in Catherine Ravenscroft's home. At first she's intrigued by the plot, but she soon realises that the book is about her. It's about something she knows no one else knew about, something she has never even dared tell her husband about. She sets out an a desperate mission to find the author of the book, while her family life suffer the consequences.

The Girl with the Dragon Tattoo by Stieg Larsson
My rating: 5 of 5 stars
'The Girl with the Dragon Tattoo' or 'Men who Hate Women' (as the author Stieg Larsson wanted it to be translated) is one of the most influential books I've read.
I choose to read this book in Swedish as I did not have to go around the translation issues, and I'm so happy I did, as I feel like the depth and brutality of the book could not have been translated into any other language.
I have pushed on reading this book for so long. I've seen the original film, I've seen the terrible American version, I knew I would love the book and everyone kept telling me, but I kept making excuses.
However, I'm so happy I eventually got around to reading this book, and I guess I enjoyed it more because I was more mature.
Mikael Blomkvist is offered a job to try and solve a suspected murder case that happened decades ago. As a journalist Mikael has had the greatest backlash one can imagine, he has gone after one of the biggest industry leaders in Sweden. However the information he received turned out to be false and he gets seceded to prison. So while trying to give his magazine a chance to recover he sets out on a journey to the cold north for a year long investigation of a crime that might never have happened.
His path is crossed by Lisbeth Salander who is a troubled young hacker with a dark past. She's hard to work with since she has no social skills whatsoever but she turns out to be a valued partner.
Wild: From Lost to Found on the Pacific Crest Trail by Cheryl Strayed
My rating: 3 of 5 stars
Wild: From Lost to Found on the Pacific Crest Trail was a crazy mix of bringing you mood right down and picking you up.
Biographies is not a favourite genre of mine, but I did enjoy this book. Sometimes it was dragging, and sometimes it felt like it was looking into my soul and dragging out all the pain that had been hiding deep inside. Sometimes it surprised me by making me laugh out loud or appreciate how lucky I am.
A good read if you are into the genre, and it also made me get a little interest for hiking.
An Astronaut's Guide to Life on Earth by Chris Hadfield
My rating: 5 of 5 stars
I have been wanting to read this book since I first saw on Chris Hadfield's Twitter that it had been released, and I finally got around to doing so.
This book was so insightful to the life of an astronaut, not just going into space but also how the family life is affected and how much more there is than just being a "superhero".
Chris' writing style was easy and entertaining, and I was lucky to have the audible version where he reads it himself (fangirling). I would recommend this book to anyone who's into Space, astronauts or anything of the sort because this was a highly informative and entertaining book.